I'm still on a hiatus from recapping, but being a drama addict means staying away from dramas would probably leave terribly lonely and lost. I'm watching a couple of Kdramas - Mandate of heaven and You're the best, Lee Soon Shim. MOH has the ingredients for a pretty good sageuk, which in my dictionary, just needs to be engaging. On the other hand, YTBLSS has a charming feel to it even if the storylines are cliches and nothing to shout about. Jo Jung Suk is adorable with a capital A here with IU and totally worth my adulation since he made me a fan in What's Up. For me, he's the biggest draw in the drama...and I would admit to FF through all the birth secrets stuff to skip the boring part.
Currently, my biggest guilty pleasure is actually c-drama Legend of Lu Zhen (also known as Female Prime Minister).
Sypnosis:
The story is about the titular heroine, Lu Zhen who hails from a wealthy pottery merchant family and doted by her loving father. She's well-versed with her father's business and possesses good pottery making skills leading to step mum feeling threatened and plots to get rid of her. She eventually escapes into the palace as a palace trainee to escape from her stepmother's clutches and vows to rise through the ranks to be in a position to avenge her father's death. Women are allowed limited freedom to assume various positions in the palace. In the interim she falls for the crown prince GaoZhan. Their social status disparity means the odds are stacked up against them being together, complicated by jealous sabotages from a bevy of beauties all enamored by the charismatic prince. There's an ex-first love, Siao HuanYun who married his brother the King, Gao Yan; a daughter of noble's birth who wants to marry him, Shen Jia Ning; Lu Zhen's nemesis Shen Bi. These three are major rivals for GaoZhan's attention and expect lots of schemings and betrayals. During all these, Lu Zhen is gradually acknowledged for her skills and talents and rises through the ranks after overcoming various obstacles. And then there is also the overarching plot of the Queen Mother plotting to kill GaoZhan so that the throne remains firmly in her son's (Gao Yan) grasp. Lu Zhen would eventually aid GaoXhan in overcoming a coup d'etat and since he could never make her his empress, she devoted her energies to politics to finally become the first female prime minister.
Lu Zhen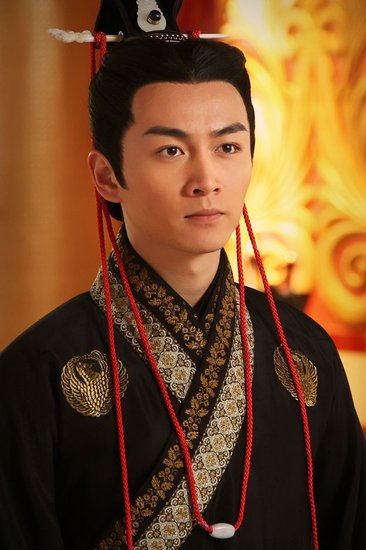 GaoZhan
Shen Jia Ning
Queen Mother Lou
Gao Yan
Siao Huan Yun
Shen Bi
All these threads means there's nary a dull moment in the drama as we follow LuZhen's experience and growth as a aspiring politician and watch her navigate the treacherous palace trappings while being in a passionate relationship with GaoZhan.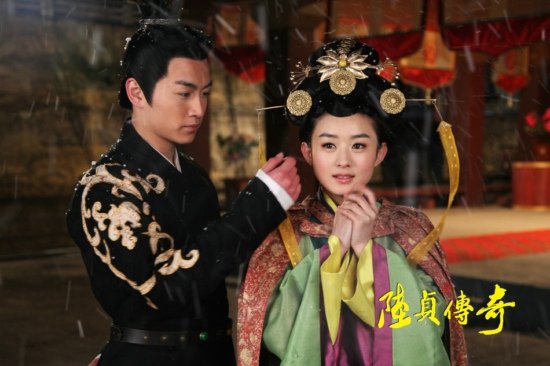 Chen Xiao (so very HAWT) and Zhao Liying (so very adorable but strong willed) has this epic chemistry that is at once sweet and fiery passion. Zhao's Lu zhen and Chen's Gao zhan owns my heart and soul so bad that I'm in a pretty bad shape...I marathoned 33 episodes right up to like 6am in the morning because I just.could.not.stop. When they are together I squee at their adorable selfs...and when they fight, I still felt like they ought to be jumping each other's skin. I went through the episodes thirsting for every little chance they would meet. The palace intrigue is much better done in c-dramas imho than in k-drama (what with the super obvious group meetings) and they keep things moving along just fine. Usually it's a bitch fight in there because so many of the ladies fall in love with GaoZhan (not that I blame them :P) but that also means Luzhen bears the brunt of their jealousies. She's a smart lass though and usually gets out of the mess just fine, though of course she had help, sometimes even from foes (others say the scheming is lacking is finesse compared to Zhen Huan Zhuan, which I didn't watch, but I find them alright).
I was never tempted to FF even though my dearies are not together on my screen, because when they do, it makes the wait all the more sweeter. And it helps that I actually like the other pairing and characters, evil or not, as well. I read some spoilers and know my heart would break (and more teeth gnashing), but this is the most addictive drama I've seen of late and I know I would stay to the bitter end. I doubt it's as exquisite as BBJX but like I said, I LOVE it. Any drama that could make me sacrifice my sleep big time is a major crack for me.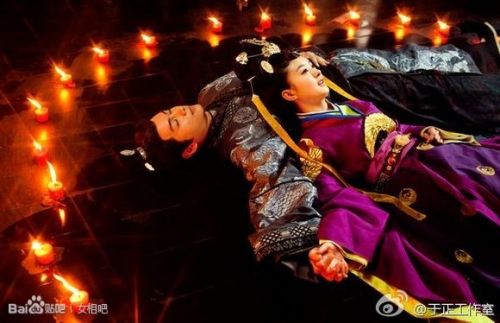 At Episode 33, the drama is not quite over yet since it's slated for 45 episodes (it's over in China at the time of writing I think). It may sound daunting but each episode is essentially only about 35 to 40 minutes long, minus all the repeats at the beginnings. There are loopholes and sometimes the editing is a major fail, especially at the beginning but it's the epic love story and Lu Zhen's struggles that drew me in so if you can get past that, I think this is an absolute gem, especially if you like period pieces like me.
Check out the lovely opening song...